SF Virtual Design Conversations: 2021 Kick-Off!
January 27, 2021,
12-1pm EST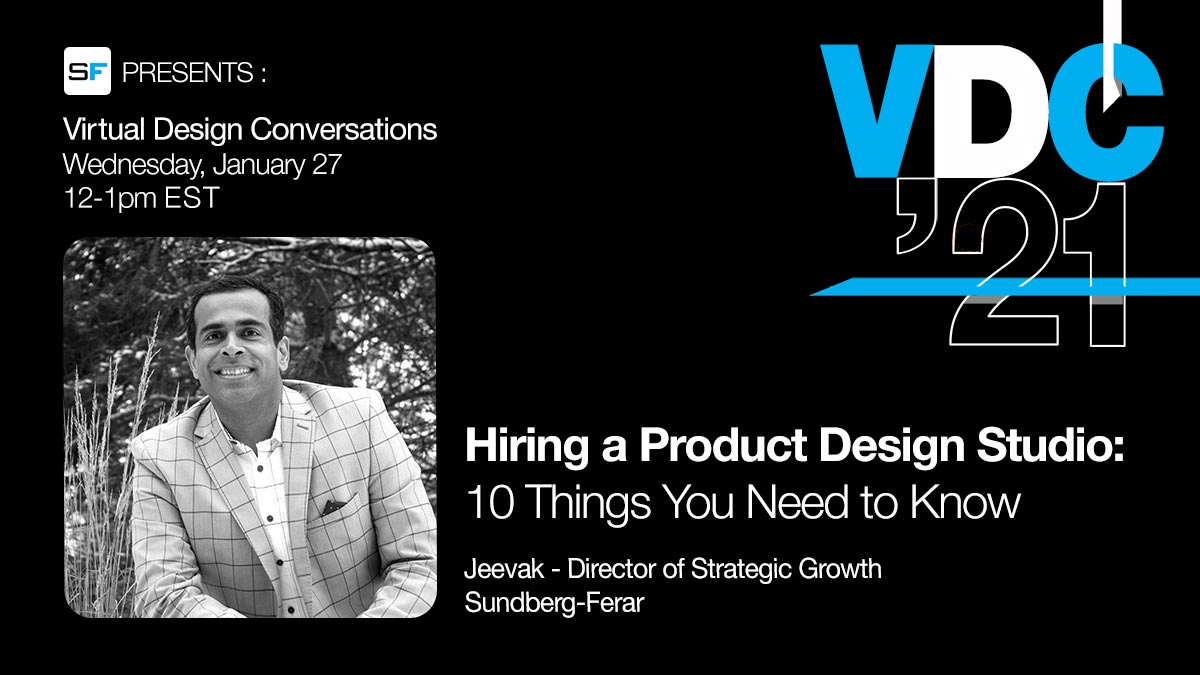 SF Virtual Design Conversations: 2021 Kick-Off!
Scroll down to watch the recording!
About The Event
New year, new series! And we're kicking off with a topic that many of you creative leaders have questions about as you plan ways to get ahead of the curve, and start the year off right! In this episode we'll be talking about "Hiring a Product Design Studio: 10 Things You Need to know". We understand that you and your team need to find creative ways to inspire optimism and start new conversations with your customers starting now; you need to break through the frenzy of the market and show the world that your innovative spirit and product pipeline are second-to-none; you need to come out strong in 2021.
But with the pressures and time crunches that inevitably happen at the start of the year, how can you get it all done and not compromise on your product development aspirations?
Many companies – whether they have a huge design team or no design team – choose to hire an external product design studio, like their own private SWAT team to execute tasks and projects and bring in creative expertise that will boost your team's bandwidth and broaden your design horizons.
But before you hire, there are some key things you should know to prepare and make sure you're hiring a quality product design studio that's the right fit for you. Join us to learn what are these key things, and how you can leverage a product design studio to make your team and your products more successful.
Who Should Attend?
CDOs, CIOs, CTOs, and any management / leadership who are responsible for product development, or who own the strategic design & innovation roadmap for their company.
Managers of creative teams focused on cultivating innovation culture.
Advanced Design Managers, Connected / IoT Product Owners, DFM Leads
Industrial Designers, Engineers, UX/UI experts or creatives who want to understand innovation & design tips and strategies.
Why is this beneficial to you?
Learn what you should keep in mind as you look for the perfect design partner for your business needs.
Find out why so many design managers and innovation leaders choose to hire product design studio's as part of their business strategy.
Avoid common misconceptions and pitfalls in collaborating with outside product design studios.
Discover a new tool for your innovation toolbox that will put you ahead of the competition in capacity and caliber.
"Hiring a Product Design Studio: 10 Things You Need to Know"
Principal + Director of Strategic Growth
Sundberg-Ferar
Jeevak brings energy, passion & curiosity to his role at Sundberg-Ferar. With his unique blend of education and experience in industrial design, engineering and business, he is a rallying voice for the alignment and optimal inclusion of the end user's un-met needs, and unspoken wants in the core value proposition of a company's products & service portfolio to generate sought-after shareholder value. Jeevak has more than 23 years of professional design experience, first in India for 7 years at Tata Motors, and then in the U.S. for 16 years at GM Design and now Sundberg-Ferar. Beyond his role at SF, Jeevak is a board member of many prominent design associations and think tanks including the Michigan Design Council, Aether Design Group, and Detroit Creative Corridor. He also served on IDSA's International board for 6 years and chaired IDSA's 2017 flagship International Design Conference: "Design IS Business". In his copious amounts of spare time, Jeevak can be found indulging his love of kickboxing, and obstacle course running, or photographing birds in obscure parts of the world.