Designer's Imperative: How to Approach Sustainable Product Design
Lauren Burger
Senior Design Strategist
Designer's Imperative: How to Approach Sustainable Product Innovation
Conversations about the importance of taking sustainable actions are not new, but recent years have seen those conversations become more mainstream and gain a greater sense of urgency.
As people around the world have witnessed more record-setting temperatures, extreme weather events, and natural disasters like wildfires and flooding, the conversation has moved for many from, "is this real?" to "how do we fix this?". This has led to actions like 85% of people around the world saying they have shifted their purchasing behaviors to be more sustainable over the past five years[1], and global investors putting $288 billion into mutual funds and ETFs that support sustainable products during Jan-Nov 2020.[2]
To grow with these evolving priorities, the importance of designing products and services for sustainability cannot be understated in the innovation process. There is a well-known statistic in the design world: 80% of all product-related environmental impacts are determined during the design phase of a product.[3] This is an exceptional amount of power that is put in designers' hands! But as the saying goes, "with great power comes great responsibility," and it is incumbent on us as innovators to design for all stakeholders – including direct stakeholders – such as end users, installers, and maintenance technicians – as well as secondary stakeholders like the communities and environments impacted by our product's manufacture, transport, use, and end of life. This means it's essential to consider the potential positive and negative impacts of the product or service we are designing, across its entire lifecycle, from the outset of the design process.
To help guide our thinking in this endeavor, and ensure a holistic and viable approach is taken, Sundberg-Ferar utilizes a life cycle framework in our sustainable product innovation process. Utilizing this framework helps us consider all stages of a product's life cycle – also called "Life Cycle Thinking" – including upfront design and logistics considerations, all the way through post-launch phases once the product is in use and even reaching the end of its life.
Breaking Down the Framework for Sustainable Product Design
As our teams immerse in a new project, we use this framework to envision opportunities that should be explored as we research stakeholder needs and enabling technologies, and then begin ideation. The framework helps us think through each phase of a product's life cycle and consider how decisions made at each phase effect the product's overall impact across its life in the market.
Sustainable Product Design
The design process is the first step of the cycle. Although this is visualized as its own phase, as previously mentioned, decisions made in this phase impact most other phases in a product's life cycle. As our team thinks through opportunities to make both environmental and social impacts, there are a variety of strategies we can explore to make a more sustainable design, including:
Designing out waste and/or pollution
Light-weighting – reducing the overall size, weight, or number of materials incorporated into a design
Responsible material choices – choosing materials derived from low-impact or recycled sources, choosing materials that are easy to recycle, etc.
For example, in working with SproutsIO on their automated indoor growing system, thought was given to making sure that the seed paper used to grow the plants were compostable after use.
Design for disassembly – making designs that are easy to break down at the end of their life into reusable, recyclable, and/or re-manufacturable components
Efficiency of use phase – designs that will require minimal inputs to function/reduce product footprint (e.g., doesn't have to be charged often, good gas mileage, etc.)
Designing so products/materials can stay in use longer
Durability – robust designs and material selection that enable a long product life
When we worked with Ames True Temper on their pruning shears, we noticed that when the spring mechanism on a pair of shears is exposed, not only is it a pinching hazard for the user's hand, but it leaves opportunity for leaves and debris to get stuck in the spring, causing it to wear or break. In our design we enclosed the spring mechanism into the body of the form for longer durability
 Repairability – creating products that are easy to repair and/or replace components of the design
Modularity – design that allows for reconfigurability to adapt to different spaces and different user needs, keeping products relevant to users for a longer period
For Dannar's, Mobile Power Station (MPS) the modular attachment strategy developed by Sundberg-Ferar for their MPS 4.0 ensured the widest range of use-cases possible for this vehicle, making it easy to repurpose, and perfect for outdoor events, disaster relief, or municipal services.
Longevity – designs with timeless style and purpose
ClubCar golf carts are a household name in the golf industry creating models that stay in use for almost decades. However, several years ago when it was time for new golf cart model to reinvigorate their sales, Sundberg-Ferar helped ClubCar create the Precedent™ incorporating innovative features and tasteful styling updates while maintaining a look of timelessness and class. Because of this approach, the Precedentä is still in use today. (Not to mention that it increased the company's sales by 23% in the following two years, has gone on to lead the market in terms of sales from 2004-2016, and resulted in the company's claiming 50% market share for over 13 years since its launch!)
Sustainable Materials Extraction
Beyond developing the design direction, we can also consider opportunities in the actual production of the product. First raw materials will need to be sourced for the components of the product and its packaging. While we recognize this is often the final decision of our clients, or is heavily influenced by pre-established partnerships, we also try to provide options for consideration in reducing negative impacts, such as:
Material extraction – options of operations that are less harmful to the environment and local communities
Supplier selection – options of suppliers who are practicing social and environmental sustainability in their material extraction operations
Material transport to Manufacturer – options of more sustainable raw material transportation to the manufacturing partner, such as seeking domestic sources
Sustainable Manufacturing Strategies
After raw materials have been procured, the next phase for consideration is the actual manufacturing of the product. Although this may take place in multiple stages, or rely on components manufactured by multiple partners, potential opportunities in this phase can be very similar to those of the raw material extraction, such as:
Processing methods – options of manufacturing methods that are less harmful on the environment and local communities
Manufacturer selection – options of manufacturing partners who are practicing social and environmental sustainability in their operations
Sustainable transport and logistics
Once the final manufactured product is ready hit the shelves, there are transport and logistics impacts to consider in getting a product into the end users' hands. This takes the shape of considerations like:
Opportunities to reduce packaging and distribution impacts required to get a final product to potential intermediate customers (such as the retailer that will sell the product to end customers)
Opportunities to reduce the impact of retail operations and delivery methods used to get a final product from an intermediate customer to the end user
Use Case
The final use case of a product can also have significant impacts on societies and the environment, both in:
The way in which the product is used, such as considering if the product is inclusive and can be utilized by a diverse group of consumers, and if the product can be used in ways that help individuals better themselves, their communities, or their environment.

Opportunities for the final product to operate efficiently, require minimal energy for peak performance, etc.
In a current project we're working on with a manufacturer of cleaning chemicals and dispensers, we're looking at solutions that help discourage overuse of chemical products and mitigate waste, as well as opportunities for less disposable components.
Product End of Life
Finally, as designers working to drive a more circular economy, you'll see that the "end of life" doesn't simply end as "waste" or in a landfill. To break the more traditional, "take-make-waste" model of old, our goal is to have the product serve a useful purpose as long as possible, through some combination of:
Recycling materials, which can then be sourced as a raw component for future products
Remanufacturing the product, or components of the design, for a new use
Repair of the product, so that it can easily re-enter the marketplace
If you've found yourself in the position of recognizing the need for more sustainable product design at your organization, but don't know where to start, we can help! Whether you're looking for help to create products designed for sustainability or a sustainable innovation strategy, we'd love to talk with you.
Designer's Imperative: How to Approach Sustainable Product Design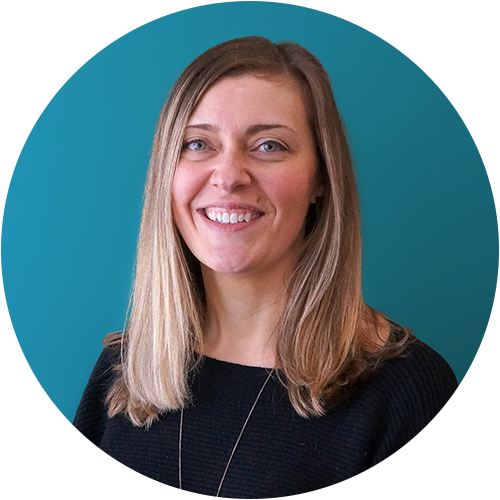 Lauren Burger
Senior Design Strategist
With a background emphasizing the importance of combining both human desirability with engineering feasibility in design, Lauren has a deep passion for understanding the needs of people and how they translate to a business growth strategy. She spent her early career growing and running her own small business, including managing new product innovation, instituting a multi-channel retail approach, and developing all marketing and PR communications. From there, she spent the next several years expanding her consumer research and business strategy skills at Gongos, Inc., where she specialized in bringing a human-centric approach to knowledge synthesis, trends, and innovation projects. 
More thoughts from Lynnaea
Discover more articles on Industrial Design